Chill-N-Reel FAQ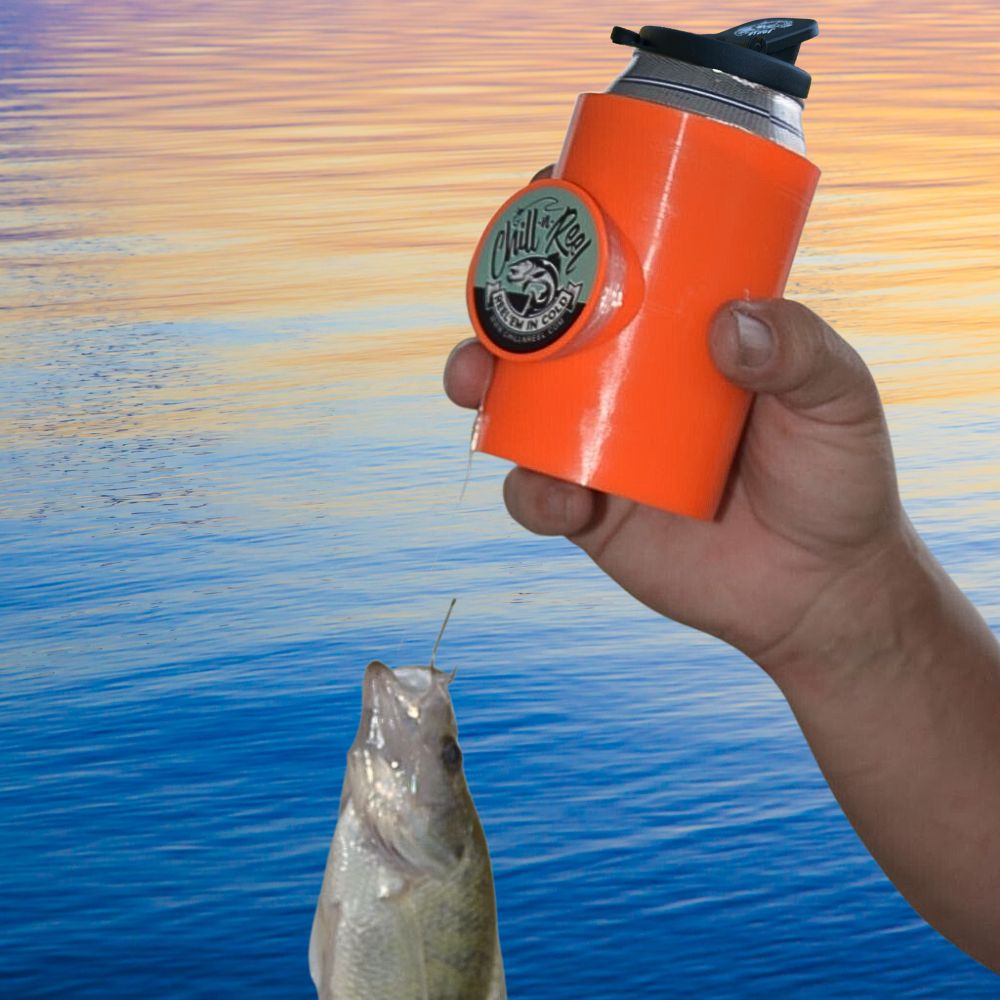 How do you cast the Chill-N-Reel?

Casting a Chill-N-Reel is as easy as tossing a rock in the water! Simply point the spool in the direction you'd like to cast. Whichever direction the logo is facing is where the line will naturally unspool. Hold the Chill-N-Reel with one hand, spool facing out, and with the other hand throw the bait and sinker. Depending on the amount of weight you have on the line, you can typically throw it up to 50-60 feet. More instructions can be found on the How Does It Work page.
Will the fishing line hurt my hand when I reel?

The Chill-N-Reel comes pre-spooled with 50 feet of line, but it is only 8lb test, so any fish big enough to hurt or cut your skin would usually break the line off first. However, if your skin is particularly sensitive, you could wear a glove -- but most people don't need to. If you want to try to catch bigger fish, the line is easily interchangeable, so you could replace it with a heavier weight. In that case, we would recommend a glove.
Were you on Shark Tank?

Yes! The Chill-N-Reel guys (inventor Jake Rutledge, his son Chase Terrell, and brother-in-law Chris Diede) appeared on Season 13, on Episode 23 of ABC's 'Shark Tank,' which originally aired on May 13, 2022. You can view the entire segment here.
Won't a fish yank my drink into the water when it takes a bite?

To reduce the risk of a fish getting away with your drink, you must be holding the line correctly. Once you've casted out, hold your drink in one hand and the line in the other, with about a foot or two of slack between the Chill-N-Reel and your hand. Once the fish takes the bait, you will feel it with the hand that is not holding your drink, and you can "Reel 'em in cold!" and not lose your drink. For more instructions, check out the How Does It Work page.
How do I reel without spilling my drink?

The key to keeping your drink from sloshing while reeling is to keep a stiff wrist on the hand that is holding the Chill-N-Reel. Let your hand that is reeling do the work instead.

We also carry a Spill Guard for Chill-N-Reel, which is a can cover that snaps right onto the top of your drink and does a great job of limiting spilling.
What is the biggest fish caught on the Chill-N-Reel?

The biggest fish we are aware of was a 39lb flathead catfish caught by a Chill-N-Reel customer in Missouri!

Prior to that, Chill-N-Reel's inventor/founder Jacob Rutledge caught a 16 lb blue catfish. as well as a 2.5ft bonnet head shark. And another customer in Idaho caught a 35" steelhead.

Customers are encouraged to attempt to break the record (we highly recommend wearing a glove for this), and we will happily send free merchandise when presented with proof of the record-winning catch!
Will the slim cans fit in the Chill-N-Reel?

A slim can will fit inside the Chill-N-Reel easily, with just a little extra space around it. However if you'd like your can to have a snug fit, we also sell a Slim Can Adapter which inserts directly into our product.
Do I need a fishing license to use the Chill-N-Reel?

Most likely, YES, a fishing license will be required when using the Chill-N-Reel.

Hand-line fishing is legal most everywhere, however we recommend that you always check your state and local regulations to make sure handline fishing is allowed and that you are abiding by the law and fishing guidelines in your area.
Is it legal to fish with the Chill-N-Reel?